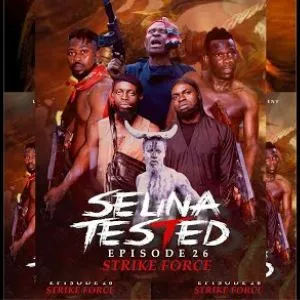 Selina tested episode 26 (Strike Force) is out, as Aboy and Chiboy continue to look for a way to bring down Sibi who is currently untouchable and cannot be killed in the movie.
Recall that in Selina tested episode 25 (Apocalypse), Otuaka, who is a native doctor, helped Aboy and Chiboy to the spiritual world to kill Sibi? Well, Aboy and Chiboy's journey to the spiritual world continues in Selina tested episode 26 as they continue to look for different ways to kill Sibi's Spirit.
On the other hand, Sibi has found out through his own native doctor(Winch Man) that Chiboy and Aboy are currently trying to kill him in the spiritual world.
What happens next? will Aboy and Chiboy succeed? find out by downloading the Full movie below
MOVIE INFORMATION
Movie Name: Selina Tested Episode 26 (Strike Force)
Movie Format: 360P Version (Mp4)
Movie Duration: 1 hour
Movie Size: 177MB
Recommended Player: We recommend that you use a VLC player to play the movie (no issues with the video).
Subtitle (English).
Did you miss episode 25? Click here to download Selina tested episode 25
Selina Tested Episode 26 (Strike Force) & released Date
Selina tested has episode 26 and it is available on our website for download. Lightweight entertainment released episode 26 on the 18th of June 2022 on their Youtube Channel. The trailer was also released in the same month on youtube by Lightweight Entertainment.
How To Watch And Download Selina Tested Episode 26
Follow this guild if you are having issues downloading the full movie of Selina tested episode 26:
Download links for Episode 26 Strike Force can be found above the post.
Go to the download servers for Episode 26.
If there's only one download link, use it.
After you click the download link, it will start to download to your device immediately.
If you're downloading a movie on a laptop, look in your download folder or the location where you stored the file, and you'll find the movie there.
Enjoy!
Have any difficulty downloading the movie? Drop a comment below or send an Email to [email protected]