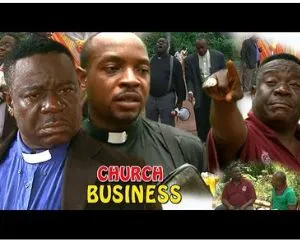 Download Church business Nigerian movie below. Being a pastor should be by calling, but that is not the case with Mr. Titus who was called by money rather than God, to be a pastor.
Mr. Titus has tried everything to make a living for himself, but all was still not going well for him. After many trials and errors, Mr. Titus decided to venture into the church business in the movie.
Before venturing into the church business, Mr. Titus acquired black spiritual powers to help him make more money and heal people with it. Nemesis caught up with Titus when the unknown spiritual powers he uses to heal people left him.
What happened next will crack your ribs. You can enjoy a clip from the movie below and crack your ribs a little before downloading.
Watch Funny Clip From Church Business Nigerian Movie
Have you downloaded and watched Mr. Ibu's first movie with Pawpaw? Download it here
Church Business Nigerian Movie Download Information
Movie Name: Church Business
Movie Fornmaet: 360P
Movie Size: 450 MB
Movie Duration: 1 Hour, 40 Minuits
Church Business Nigerian Movie Cast
This are all the cast in the movie, Church business.
Titus ———- John Okafor
Metu ———– Collins Muonagor
Pepetual ———- Angela Okoye
Udeme ———- Chris Nwachukwu
Uka ———- Uka .O. Nwachukwu
Okah ———- Peacemaker Unamba
Pastor ———- Chuma Emeka
Lady 1 ———- Crownsy Anyanwu
Lady 2 ———- Lovelyn Iroegbu
Thug 1 ———- Ezenwa Victor
Thug 2 ———- SB Young
Njideka ———- Akudo Nwanaeri
Agutha ———- Sofia Dofie
Ann ———-Nzube Onyia
Guy 1 ———- Eze Jack
Guy 2 ———- Seamus Adigboum
Woman 1 ———- Inyey Amarachi
Nike ———– Eric Seondson
Ichie ———- Kelvin Okoro
Ego ———- Blessing Kekreocha
Madu ———- Prince Nwadi
Did you have any challenge trying to download the movie? drop you comment below. You can also request for movies by sending an email to [email protected].