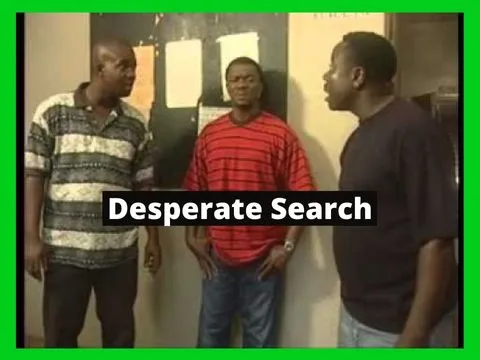 Watch and download desperate search Nigerian movie below. This movie is packed with laughter and you might want to check if your ribs are strong enough to carry the laughter while watching this old Nollywood classic movie.
4 friends who are desperately in search of wealth and power, embark on a journey to an Oil-rich land to source wealth. will they be able to succeed? find out below!
This movie was directed by Charles Inojie, who also happens to be one of the lead actors in this movie. Desperate Search. Watch the full movie below.
Watch And Download Desperate Search Nigerian Movie Part 1
Download Aki Na Ukwa movie, one of the old classic Nollywood movies that ever graced our screens during our childhood.
Movie Information:

Movie Name: Desperate Search Part 1

Movie Format: 360p

Movie Duration: 1 hour, 17 minuites, and 40 Seconds
Watch Desperate Search Nigerian Movie Part 2
Movie Information:

Movie Name: Desperate Search Part 2

Movie Format: 360p

Movie Duration: 1 hour, 3 minuites, and 21 Seconds
Note* There is no desperate search part 3. The movie ends in Part 2.
Desperate Search Cast
Job – John Okafor
Taribo – Charles Awurum
Major Bosco – Ada Ameh
Peter – Charles Inojie
Preye – Kelvin Ikeduba
Gloria – Pat Ede
Mercy- Kelechi Anwuacha
Comfort – Florence owanta
Rose – Vicky Nwafor
Youngman – Sunday Aniebonam
Juliet – Chika Ide
Mabel – Chioma Ikegbulam
Gladis – ChineyeUkonu
Linus – Song Ike
Chief – Peter Nwanna
Maria – Edith Okojie
Pastors In The Movie
Pastor Jude – Larry West
Pastor 1 – Chigwe Okolie
Pastor 2 – Stanley Okereke
Landlords In The Movie
Landlord 1 – Gadiel Onwudigwe
Landlord 2 – Dino Ndubueze
Nurses & Doctor In The Movie
Nurse 1 – Elle Atodo
Nurse 2 – Amaka Eze
Doctor – Abraham Madubuko
Other Characters In The Movie
Man 1 – Chuks UOgibonna
Man 2 – Tony Alor
Woman 1 – Esther Aikpokpojie
Woman 2 – Emilia Dike
Did you enjoy watching the movie, Desperate search Nigerian Movie? drop your comment below on the next old Nollywood movie you would like to watch, and we will update it on our website.
You can request movies also by sending us an email at [email protected].