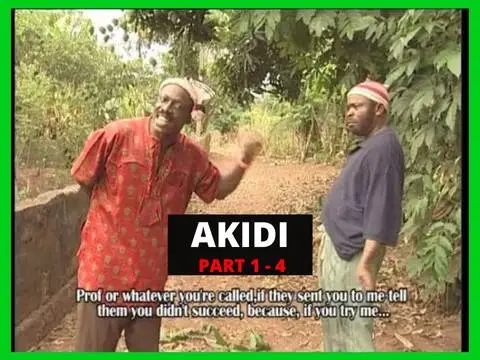 Download and watch Akidi full movie, a Nollywood classic movie that features most of the A-list comedy actors. This movie is packed with a lot of laughter and with a great storyline. Even though the language spoken in the movie is in Igbo language, you will enjoy every bit of the movie.
This movie is subtitled in English for those that do not understand Igbo language.
Akidi and his friends are known to be a notorious group for killing people, hijacking their lands, and doing other bad things in the village.
The villagers had to bring in 'Kaba' boys to help them fish out the bad people in the community that are responsible for the killing, and stealing, in the village.
I hope your ribs are strong enough to carry your laughter while watching Akidi movie
Akidi movie was produced by Amaco Production.
Watch and download Akidi full movie
We Highly Recommend you have a VLC player on your phone after downloading.
Watch More of Sam Loco's Old Nollywood movies here
Download akidi movie
Movie Information:

Movie Name: Akidi Full Movie

Movie Formats: 360p

Movie Duration: 3hrs, 46 minuites, 43 Seconds
If you cannot download the full movie all at once, you can download it in parts. I have provided you with the links below to download Akidi movie parts 1 – 4.
Note* There is no Akidi part 5. The movie stops at part 4.
Which Year Was Akidi Acted
Akidi which was produced by Amaco Production was acted in 2010. Akidi movie is 12 years old in 2022.
Akidi Movie Cast
Osoufia – Akidi
Patience Ozorkwo
Sam Loco Efe – Silas
Stephen Alajemba – Nwude
John Okafor – Appolos
Victor Osuagwu – Professor
Genesis Uchendu – Magnus
Kingsley Orgi – Egbe
Obinna Ukeze – Deadman
Emeka Enyiocha – Scorpion
Roy De-Nani – Igwe
Enebechi Alor – Izuakor
Azubuike Ani – Amangbo
Charles Nwachukwu – Odikpo
Obi Dike – Mike
Chudi Amobi – Marcel
Ejike Anigbogu – Ogbuka
Stan K Amandi – Icheke
Stanley Moi – Paul
Lucky Okonji – Man
Uzoma Madubuobi – Pastor
Ogechukwu Igwenma – Native Doctor
Chinedu Odinachi – Wine Tapper
Chinyere Maduike – Egoyibo
Veronica Uba – Mrs. Icheke
Godwin Aguchima – Papa Oyebuchi
Ego Okafor – Mama Oyebuchi
Nwanneka Nnoli – Girl
Chioma Ezeji – Uju
Nneka Nwokedi – Mama Chinedu
Pat Ujiogu – Sis. Caro
Adaeze Agu – Mama Ada
Steve Anuka – Chinedu
Arinze Amobi – 1st Man
Chuma Nwaiwu – 2nd Man
Kanayo Umeh – 1st Stranger
Francis Nwosu – 2nd Stranger
Uchenna Okwubunka – 1st Girl
Chinaeyenwa Okafor – 2nd Girl
Gossippers in the movie Akidi
Elder Ifejike
Innocent Nwafor
Minors In Akidi Full Movie
Sandra Nwaigbo
Uche Oguzie
Clement Onwuzulike
Tony Eze
I want To Download Akidi Movie
To download Akidi movie, scroll up this post on v9ja.net, you will see download links in red text, click the download link and it will take you to another tab where you will be able to download and watch Akidi full movie
Did you enjoy watching this movie? comment below what old Nollywood movies you want to watch, and it will be uploaded on our website.
You can send an email to [email protected] to also request movies.