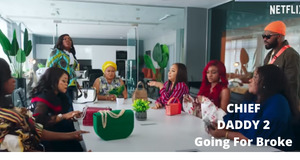 Why are there so many critics of the movie Chief Daddy 2? What happened to chief Daddy 2 that everyone is talking about?
We all know how interesting Chief Daddy's part 1 was. We were even asking for more from the producer of the movie. What changed about the movie?
All the information you need to know about Chief Daddy part 2 is contained in this post. From watching the full movie, downloading, Casting, and review of the movie. So grab your popcorn and let's dive in.
Chief Daddy is a movie that portrays how people fight for property after the demise of their wealthy brother/sister/in-laws or extended family, especially in Africa.
Chief Daddy 2 Release Date
Chief daddy 2 was officially released on January 1st, 2022 on Netflix.
Chief Daddy 2 Trailer
Check out the full trailer of chief daddy 2
A lot of Nollywood stars in this movie. Check out some of your favorite stars featured in the movie.
Chief Daddy 2 Cast
Funke Akindele Bello
Shaffy Bello
Mawuli Gavor
Kate Henshaw
Joke Silver
Rachael Oniga
Ini Edo
Chigul Mawuli Gavor
Beverly Osu
Linda Ojiafor Sulieman
Falz
Beverly Naya
Nkem Owoh
Broda shaggi
Zainab Balogun
Dakore Egbuson Akunde
Rahama Sadau
Nedu Wazobia
Watch Chief Daddy 2
This movie is trending right now: Storm And Jerry 1 & 2
Characters In Chief Daddy 2
Chief Daddy is the father Abraham in the movie with many children, wives, and concubines.
Get to know the characters that play the key role in the movie Chief Daddy 2.
Ajoke Silva As Lady Kay
The wife to late chief daddy. She was left with no money to celebrate her birthday the way she would have preferred it. Lady Kay was left at the mercy of quark event planners to help her plan her birthday.
Falz as Femi A.K.A FAMZY
Falz is the only legitimate child of Chief Daddy. To say the truth yea, this guy almost burst my eardrum with his American Accent.
Femi who is also known as Famzy(Falz) in the movie is a rapper who loves music. Femi can stay days without eating and cannot stay a second without singing/rapping.
Anything Famzy does is all about music, music, and music. That is how much Famzy loves music. He believes in his talent as a singer and does not give up.
Famzy is that guy that took his music to his father's(Chief Daddy) company to interrupt an ongoing meeting that will move the company forward. yes! He can be that crazy.
Funke Akindele Bello As Tinu
Tinu is a lady that can be very jealous when it comes to love. In fact, she can do the unthinkable when it comes to love. She runs a boutique with her sister Teni.
Tinu is that lady that just wants to wear her boutique clothes and look beautiful and expensive at the same time.
Kate Henshaw As Teni
The sister to Tinu. They both run the same boutique. The 2 of them Teni and Tinu have the same trait. Teni can wear the whole of her boutique just to impress a man.
Beverly Osu As Sandra B
Sandra B is a very supportive girlfriend to Famzy. Come rain and sun, she always got her boyfriend's(Famzy) back. The kind of girlfriend every man wishes to have.
Chigul Mawuli Gavor As Chuchu
The event planner can use 1000 naira and plan an event.
Nedu Wazobia As Joro D
He is the partner to Chuchu the event planner. If they are the last set of event planners on earth, I will rather plan my event myself.
Rahama Sadau As Laila
One of Chief Daddy's daughters came out from nowhere and took over chief daddy's company because she has a larger share in the company.
Laila is a no-nonsense woman and a little bit greedy.
Samuel A. Perry AKA Broda Shaggi As Omar
The Dubai taxi driver relocated to Nigeria because of love, After his girlfriend left him.
Linda Ejiofor As Sisi Ice Cream
Honestly, I don't know her mission in this movie. It's either her mission is to fall in love with Famzy(Falz) or Broda shaggi. Her role in this movie was totally unnecessary.
Uzor Arukwe As Prince Sunny
The man that fell in love with two sisters Tinu and Teni. Prince sunny fell in love with 2 confused sisters that don't know what they actually want.
Beverly Naya As Adaora
Adaora is the girl that just wants to love and be loved back. This lady is every man's dream. Her only problem was falling in love with a footballer that every woman want to to get down with.
She is the one that made me continue watching the movie tho. She can do no wrong in my eyes. My forever crush.
Mawuli Gavor As Dammy Baggio
The footballer that Adaora fell in love with. Dammy Baggio is the guy that loves to test the lips of his female fans like the celebrity he is in the movie.
This guy just wants to read the script given to him and go home.
These are the people I saw in the movie. The rest probably came to visit their friends on set
See the top best Movies showing In Cinemas right now…
Chief Daddy 2 Review
The movie chief Daddy 1 was a very interesting movie that came out in 2018 and got a lot of people talking about the movie positively.
After the release of part 2, a lot of people were not pleased with the storyline, the number of A-list actors, and other unnecessary things in the movie.
For the most part, the storyline was so unnecessary.
Plot Twist
The Beecroft industry saw a change in leadership as one of the daughters of chief daddy Laila, took over the company and made sure that no money was given to any member of the family from the company's account after the death of Chief daddy.
Laila was introduced in the movie at the time the family gathered to share her father's inheritance. Because she is the highest shareholder in the Beecroft industry.
The family of chief daddy couldn't live up to their expectation anymore due to the restrictions given to them by Laila the new manager of the company.
In fact, they were all broke and couldn't afford the luxurious lifestyle anymore. Even the Wife to late Chief Daddy Lady Kay was so broke that she couldn't afford to plan her own birthday the way she would have loved to.
What next?
They are at the mercy of the first son Falz who is not moving forward in his music career and Dammy Baggio the footballer whose career and love life took another twist.
Chief Daddy 2 Critics
The storyline is a very confusing storyline. The movie was practically looking like a cut and join movie with no direction at all.
It was like the producer and the director were trying to cash out from the movie fast without carefully looking at the script.
So many unnecessary actors in that movie. The likes of Ini Edo, Remi Castle, Zainab Balogun, and the host of others.
Firstly, why did they even have to stress our bad guy Falz with that Jamaican accent? that accent was totally unnecessary in the movie. Just giving me an unnecessary headache.
Secondly, This movie was just 2 hours long for no just reason. Because they were trying to make it a cinema movie, they had to make it long.
Thirdly, The love triangle between Teni, Tinu, and prince sunny, what happened to it? We were not told the outcome of their love triangle.
Why did everyone start going to Dubai all of a sudden?
They had 3 whole years to give us a very good movie after the first Chief Daddy in 2018.
Conclusion
The actors that kept me glued to the screen still remain my crush Beverly Naya and Falz with that his Jamaican accent.
Not all movies should make it to the cinema because it has A-list actors in them. Nigerian movie producers should know that not all movies must have a second part. Sometimes, it is best they leave the movie like that without a part 2.
Chief Daddy 2 Social Media Critics
A lot of people who have watched the movie have gone on social media to pour out their minds about the movie, Read below what some of these guys have to say: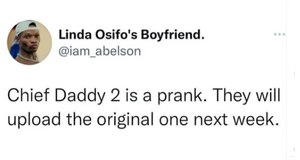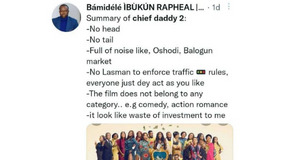 Download Chief Daddy 2
File Name: Chief Daddy 2
File Format: 360p (Mp4)
Duration: 2hrs
File size: 464mb
There you have it. What do you think about the movie? Did you enjoy the movie? Comment below your thoughts on the movie.
Don't forget to share this post with your friends that have not watched the movie.