Is this the end of the road for Tallest in Selina Tested episode 3? will he survive the wrath of Aboy and Chiboy? find out!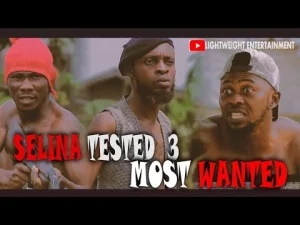 Selina Tested Episode 3 takes a new turn as the killers of Aboy's whole family are in search of him. How is Aboy going to handle what is coming?
Watch Selina Tested Episode 3
SELINA TESTED ( MOST WANTED EPISODE 3)
Will Tallest succeed in killing Aboy and Chiboy? or it's going to backfire? keep watching…
Selina Tested file Information:
File Format: 360p (Mp4)
File size: 50mb

Download Episode 3.MP4
Movie Cast
Mc Prophet
Famous Patrick
Manuchim Praize Odogwu
Wizdom Isiguzo
Mimi Nessa
Maryland Nlerum
Gabriella Ogbonnaya
Michael Abba
Aye Otto
Gwill
Sibi Steve
Dj Key
Drela Onyema
Download Selina Tested Episode 1-25
Trending Nigerian Movie: Thirty

Selina Tested Episode 3 On V9ja.net: How To Watch And Download
Do you want to watch Selina Tested Episode 3 on your computer, tablet, or phone? To download and watch Selina Tested Episode 3, follow the instructions below.
On v9ja.net, we've put together a simple guide to downloading movies.
To avoid making mistakes, please follow the instructions below to download movies.
Download links for Selina Tested Episode 3 can be found further down the post.
Go to the download servers for the movie.
If there's only one download link, use it.
After you click the download link, you'll be taken to a new tab where you can download the movie you've chosen.
Please read the video information above before downloading, as downloading the incorrect file format may make it difficult to play on your phone or computer.
Drop your comment, if you Enjoyed watching Selina Tested Episode 3.