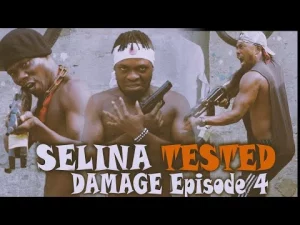 Selina Tested Episode 4 takes another turn as Aboy and Chiboy have caught Tallest. Will this be the final moment for Tallest? or will he live to see another day and change his ways? find out below!
Selina Tested Episode 4 download
Aboy and Chiboy are on the hunt for Tallest who tried to kill them but failed in episode 3.
Selina Tested file Information:
File Format: 360p (Mp4)
File size: 54.5mb

Download Episode 4.MP4
*Just Click On The Green Button when you get to the next tab, to download the movie.*
Download Selina Tested Episode 5 below
Trending Nigerian Movie:

 Dis And That

Selina Tested On V9ja.net Episode 4: How To Watch And Download
Do you want to watch Episode 4 of Selina Tested on your computer, tablet, or phone? Follow the steps below to download and watch Selina Tested Episode 4.
We've put together an easy guide to downloading the movies on v9ja.net.
Please read the guidelines below before downloading the movie to avoid making mistakes.
Selina Tested Episode 4 download links can be located further down the page.
Go to the movie's download servers.
Use the single download link if there is just one.
You'll be brought to a new tab after clicking the download link, where you can download the movie you've chosen.
Before downloading, please read the video information provided above, as downloading the wrong file type may make it challenging to play on your phone or computer.
You can get Selina Tested Episode 4 by clicking the download link above.
what do you think about Selina Tested Episode 4? drop your comments.