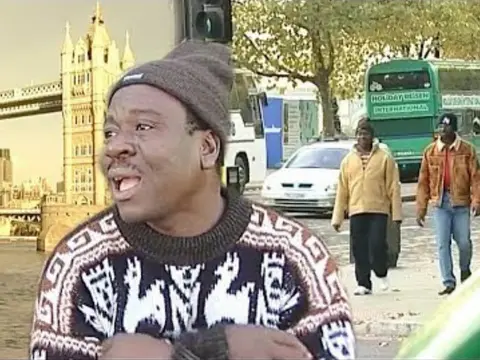 In the quest of making it in life and showing off to the ladies who rejected him, a man name Aliyu (Mr Ibu), quit his Job in Nigeria to travel to Europe in hopes of returning back to Nigeria with plenty of money in Mr Ibu in London 1 and 2.
Mr. Ibu In London is directed by Adim Williams and was released in 2004.
Watch Mr. Ibu In London Full Movie
People Currently Watching: Mr Ibu And Son
Movie Information
Movie Name: Mr. Ibu In London Full Movie
Movie Duration: 1 Hour, 41 Minutes, 39 Seconds
Movie Size: 420.94 MB
Movie Format: 360P Mp4 Video 

Download Mr. Ibu In London Full movie
Mr Ibu In London Cast
John Okafor (Mr Ibu)
Kareem Adepoju
Marian Davies
Milida Johnson
Charles Okocha
Lanre Falana
Remy Ohajianya
ishala Oshun
There you have it, Mr. Ibu In London Part 1 and Mr Ibu In London Part 2 complete movie download.