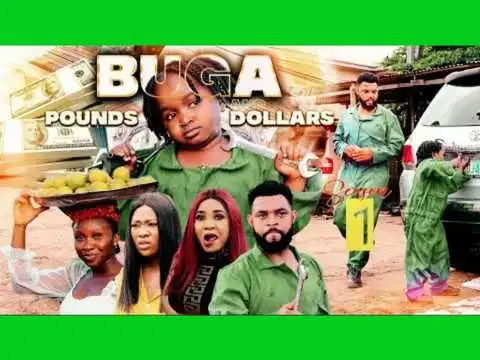 Buga Pounds and Dollars 1 is not just a movie for laughs, but also has a lot of lessons that parents can learn from and implement.
A child called Buga started taking responsibility for herself at a tender age while her mother prostitute around. Buga is a very smart and calculative kid, who has a lot of street vibes in her and does not take nonsense.
You cannot call Buga without adding pounds and dollars if you don't want to be in Buga Pounds and Dollars trouble.
This post has Buga Pounds and Dollars 1, and in this post, you will find the next season to watch and also download.
This movie is produced by Uche Nancy and she is also the executive producer of the movie.
Watch Buga Pounds And Dollars 1
You may also like to: watch and download Ebube Obio and Kiriku's latest movie titled Tom and Jenny
Fill Information:
Movie Name: Buga Pounds And Dollars 1 Nigerian Movie
Movie format: 360P
Duration: 1hr, 17 minuite, and 7 seconds
Movie Size: 265.92mb
Buga Pounds And Dollars 1 Cast
Actors and actresses that played key roles in the movie:
Stephen Odimgbe
Chinenye Innebe
Sonial Uche
Obio Oluebube
Juliet Ekeson. J
If you enjoy this movie, comment on your favorite part of the movie.
If you are looking for a particular movie and it is not on our website, you can request that movie by dropping it in the comment section or sending an email to [email protected] and it will be uploaded immediately.