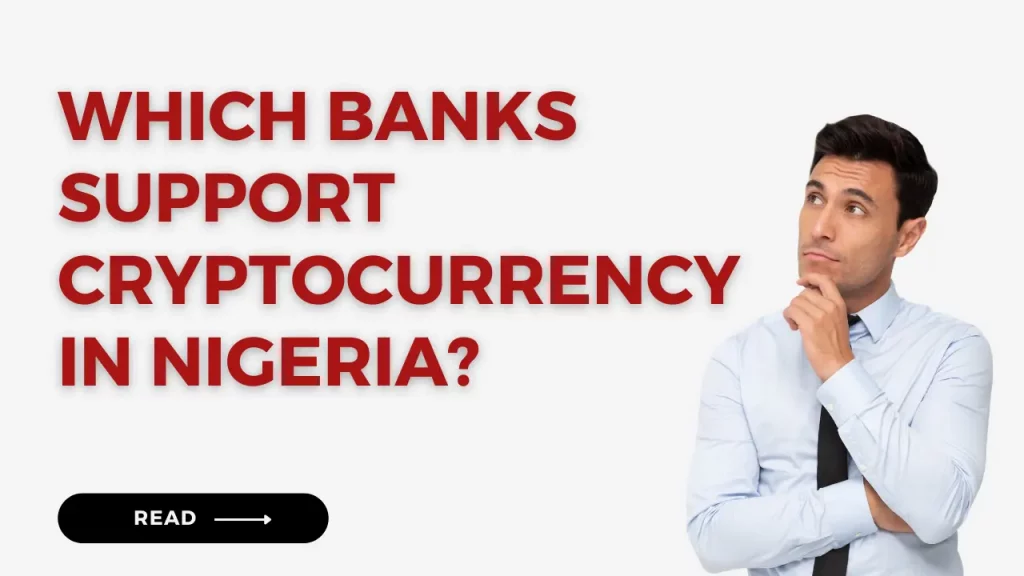 Which Banks Support Cryptocurrency In Nigeria With more Nigerians now investing in digital assets like Bitcoin, Ethereum, and Litecoin, cryptocurrency has recently experienced tremendous growth in popularity.
Knowing which banks support cryptocurrency transactions is important if you're interested in investing in cryptocurrency in Nigeria.
One of the biggest challenges for cryptocurrency investors in Nigeria is finding banks that support cryptocurrency transactions after CBN ban every form of Cryptocurrency transaction in Nigeria. However, despite the regulatory challenges, some banks in Nigeria still embrace cryptocurrency transactions.
In this post, I will discuss the condition of cryptocurrencies in Nigeria right now, identify the firms that accept cryptocurrency transactions, and advise where and how to exchange cryptocurrencies in Nigeria.
So, let's dive in and explore the cryptocurrency world in Nigeria!
Which Banks Support Cryptocurrency In Nigeria
Currently, Nigerian banks have been banned by the CBN from trading in cryptocurrency or harboring any of their customers who trade in cryptocurrency.
According to CBN: "The Central Bank of Nigeria (CBN) has directed all banks to desist from transacting in and with entities dealing in cryptocurrency. The CBN also directed banks to close accounts of persons or entities involved in cryptocurrency transactions within their systems. This directive was contained, in a circular dated February 5, 2021, signed by the Directors, Banking Supervision and Payments System Management, Bello Hassan and Musa Jimoh respectively, and communicated to deposit money banks (DMBs), Non-bank nancial institutions (NBFIs), and other
financial institutions (OFIs) reads: Further to earlier regulatory directives on the subject, the Bank hereby wishes to remind regul a ted ins titutions tha dealing in cryptocurrencies or facilitating payments for cryptocurrency exchanges is prohibited. Accordingly, all DMBs, NBFIs and OFIs are directed to identify persons and/or entities transacting in or operating cryptocurrency exchanges within their systems and ensure that such accounts are closed immediately."
Before the ban, here are the banks that support Cryptocurrency In Nigeria
Access Bank
Guaranty Trust Bank (GTBank)
Zenith Bank
Providus Bank
United Bank for Africa (UBA)
Sterling Bank
Wema Bank
First Bank of Nigeria (FBN)
Union Bank
These banks do not trade with cryptocurrency anymore but you can use their card to trade in Crptocurreny
Which bank is best for cryptocurrency in Nigeria?
The best bank for cryptocurrency in Nigeria may depend on individual preferences, such as transaction fees, security measures, and ease of use.
This does not just apply to banks alone, but other Cryptocurrency transaction firm. Especially now that Nigerian banks has been ban from trading in Cryptocureency.
Carrying out your research is important, and comparing the different offerings of each bank before deciding which one to use for your cryptocurrency investments.
What is the safest way to buy crypto in Nigeria?
When it comes to buying cryptocurrency in Nigeria, safety should be a top priority.
The safest way to buy crypto in Nigeria is to use a reputable cryptocurrency exchange registered with the Securities and Exchange Commission (SEC) in Nigeria.
This ensures the exchange is regulated and follows strict guidelines to protect investors' funds. Another important factor to consider is the exchange's security measures.
Look for exchanges that use two-factor authentication and have a strong track record of safeguarding users' funds.
By researching and taking the necessary precautions, you can safely buy and invest in cryptocurrency in Nigeria.